Bead Stringing Classes in Roseville Ca, Learn to String Beads Roseville
Discover your true self through the natural art of healing.
Learn Bead Stringing Basics

Are you looking to learn how to string beads to make your own necklace? In this class we explore different styles of beaded necklaces, the design process, choosing your materials, types of string and cord, knotting, attaching, handcrafted and purchased findings and clasps. Classes will follow that explore each of these items in depth. This first class is an intro to stringing beads and will help you to create a beautiful piece of jewelry.
Class is available on our class schedule and to HR for Corporate events.
---
BYOB! Bring Your Own Beads!
For this class you will want to bring your own beads. Determining how to choose your beads. Start with beads that appeal to you, determine based on the hole size and bead size which of the thread types you will want to use. If you like to wear longer necklaces make sure to buy enough beads. In future classes the projects will be very specific and geared towards one style or type of necklace. This class is designed to teach you different elements of creating a necklace
Materials I provide:
10 lb and S-lon Thread
Beading needles
Thread snip Scissors
Waxed Linen and Leather for demo's only.
Assortment of findings and focal charms you can use in your piece. (see photo below)
Copper wire, silver tone art wire and tools for making clasps and connection findings.
Beading trays for measuring and understanding layout.
Materials List
This beginning class works materials:
10 lb Test braided white thread
Waxed Linen (I love love love this material!)
S-lon cord I just love this cord, you can find it in individual spools or colorful packs
S-lon thread  this is a fine thread of super great strength. You can use the 10lb braided white thread listed above in its place.
Leather Cord- There are various types of leather and faux leather cord. Its always nice to explore and can be used as part of this class.
Beads I like to work with natural gemstone beads, but you can certainly work with any type bead you like. For working with the 10lb braided white thread or the s-lon thread you can use seed beads and beads with small holes. If you want to work on waxed linen or leather then you will want to have large hole beads.
Beading needles. I like the flexible ones.
Beading Needles
Findings and Clasps. For this class we will use copper wire (provided) for class and findings. If you would like to use another metal you will want to bring that with you. For example if you want to make silver findings and clasp you will want 16 and 20 gauge silver round wire.
Magnifying glass/reading glasses (optional)- Dollar store!!
---
Here you can see some of my favorite types of thread to work with. I love the S-lon thread which is often found as "C-lon" thread. The C-lon is the thicker spool in team the leather is to the left and with a waxed linen spool under it and to the bottom right is some super strong fine beading thread.
---
With this class you can use a variety of types of beads. If you choose Czech Glass seed beads you will want to use S-lon Thread or the 10 Lb thread. If you want to use large hole beads or large hole pearls you can work with leather. So depending on the look and style you will want to put together your pairs of thread and beads. Many natural gemstone beads have large enough holes to work with waxed linen.
---
In this project you will learn different bead stringing methods, necklace planning and designing your piece. We will cover types of beads, stringing materials, knotting, use of and creating findings (connections) and claps. The objective is to create a beaded necklace like the one pictured in the center but also to learn how to end with different types of knots. It's simple and tons of fun!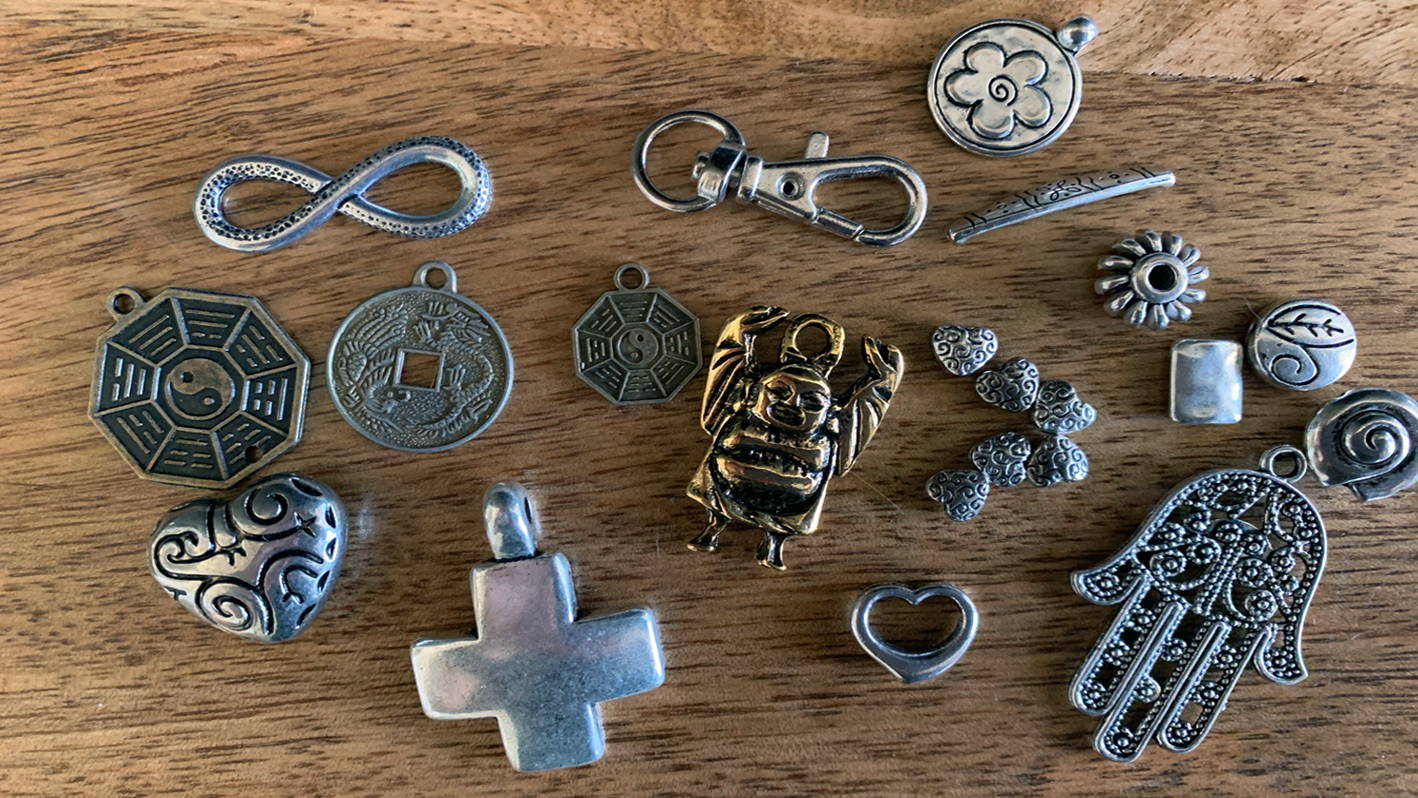 ---
These are just a few of the charms, clasps, connectors and separator beads we will have available at the class. Some are bronze, brass, silver and "bali silver" which has a high nickel content.  
---